Holiday Travel - When and How To Get There Better
The holidays are upon us. It is a great time to get together with friends and family, eat lots of food, and spend way too much money. It is also the time to spend way too much time in traffic.
Google, the Internet company that knows all, has come up with data for the holiday travel
The day before Thanksgiving between 3-4pm is the worst time to hit the road. Thanksgiving Day, as most have already reached their destination, is a good day for car and airplane travel.
» Add at least 30 to 60 minutes to your normal pre-flight routine. If you usually give yourself 90 minutes, head out during this time 2 hours ahead
» Weather happens, we cannot do anything to change it, but we can be prepared. Research alternative flights and other options in case your original itinerary is derailed
» Flexibility and patience are great to have with you during holiday travel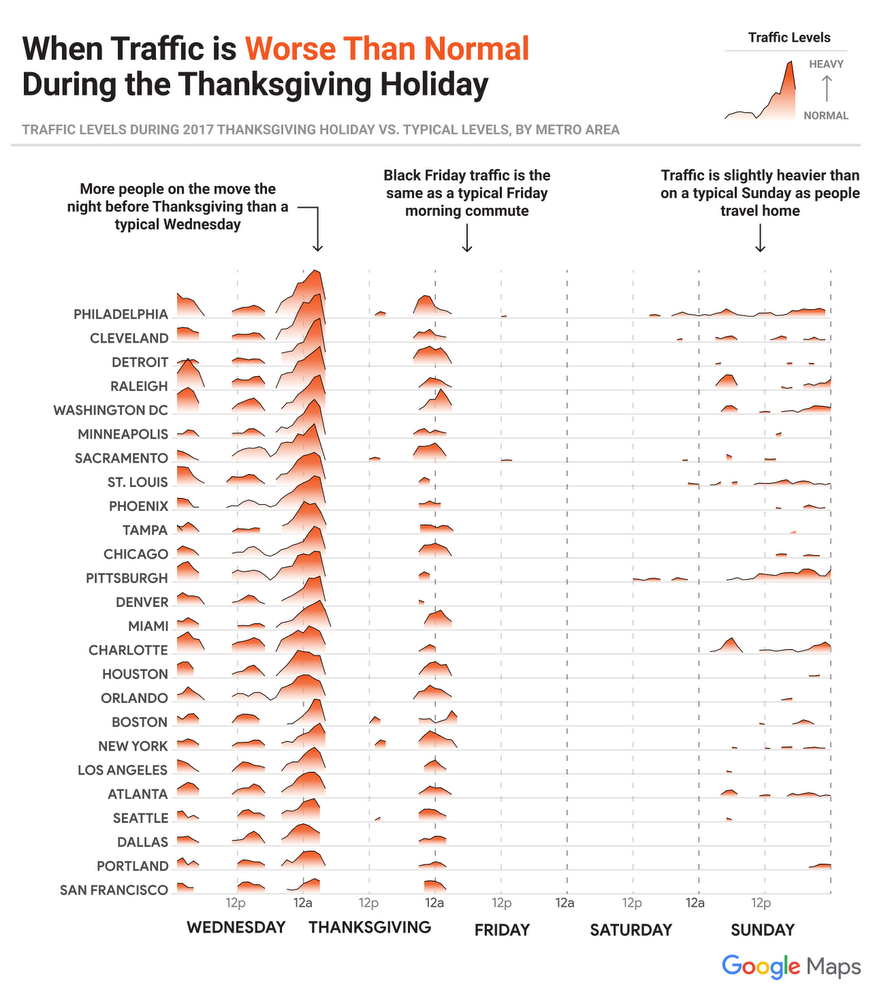 The best and worst days to fly for Thanksgiving
TLDR: The worst day to fly is the Wednesday before the holiday
The best and worst days to travel around Christmas
thisisinsider.com/best-worst-days-christmas-travel-2017-12
No matter when you travel, the question is always when exactly to fly.You'll get the best deals on Christmas Eve or Christmas day.
Related articles:
Thanksgiving Travel Cheat Sheet
Best Travel Gadget Gift Ideas for Carry-On Travelers
How to Backup Your Priceless Photos While Traveling
Flying for Thanksgiving? Read This First
Thanksgiving Weekend Getaway Ideas
Full details of Google's finds are here:
Don't be a turkey: Use Google Maps to avoid traffic and crowds this Thanksgiving
blog.google/products/maps/dont-be-turkey-use-google-maps-avoid-traffic-and-crowds-thanksgiving
Take a look at the chart below to plan out your travels around the holidays (1 being less traveled, 15 very busy travel days):
Buy reliable VPN for desktop and mobile for travel and at home
Best Anti-Theft USB Charging Travel Gadget Backpack
Amazon's shopping guide with curated luggage by airlines
Shop All-new Kindle Travel Gear
Sound-off: What do you think? Let us know below